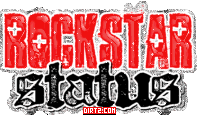 Rock. Star. Status.
Monday night I went to my first strength class. I sat in the office area waiting for the class to start with the five guys and three skinny bitches
(here is where I would do strike though if I knew how, because I know that is wrong to say)
err... I mean,
other women
that were going to be in the class. My heart was in my throat and EVERY fiber of my being wanted to bail.
But I stayed and you know what? I was the only girl that did regular pushups and one of only two in the class (yep, including the guys!) that went all the way, chest to floor for all 10. The instructor even gave me a "Hell yeah!"
I did, however, get my ass handed to me on all the other exercises, but I survived and I will go back on Wednesday.
Wait! There is more!
Today I went to my first Level 2 Masters swim class (I am not good enough to be in Level 1. Seriously, even the pre-masters coach agreed) so they started this intermediate level for the "middle people" like me. Well, I found out today that I am
low-middle
, since I am the slowest and most inept of the 'middle.'
I did find out that my old Team in Training coach is the Level 2 coach for Tuesday and Thursday afternoons. That was WAY cool!
Anyhoo, that is not why I am a rock star. I am a rock star because I went and I did all the drills including speed work.
Speed work!
In the pool!
Me, who HATES swimming.
Like I said...
Rock. Star. Status.