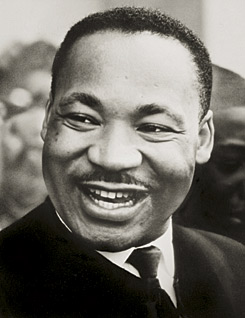 We must develop and maintain the capacity to forgive. He who is devoid of the power to forgive is devoid of the power to love. There is some good in the worst of us and some evil in the best of us. When we discover this, we are less prone to hate our enemies.
-Martin Luther King Jr.






Exercise
Spin Class (1:00:00)
HR monitor: Total calories burned (525 cal)
I went, I went, I went. Yay me! The instructor was very nice and helpful. Unfortunately, the YMCA is canceling this class as well (Am I a curse?) but, I did meet a very nice lady who recommended a yoga class on Tuesday nights. So maybe I will try it out after my Tuesday run.
Food
Breakfast
JC French Toast & banana/coffee (320 cal)
Snack
none (0 cal)
Lunch

Sushi: Golden Bell Roll/Tamago/Diet coke (700 cal)
Snack(s)

Power Bar (200 cal)
Dinner

JC Mac & Cheese (250 cal)
Snack

Choc. cake (not JC the real kind)/Yogurt & cereal (450 cal)

Total calories in: 1830 cal
Total calories burned from exercise: 525 cal